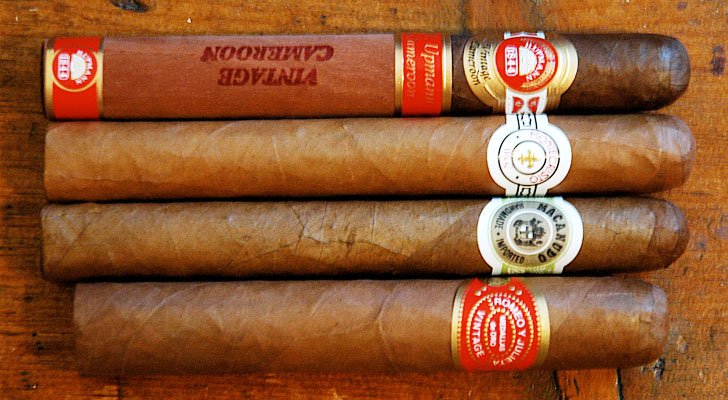 Whether you're new to the smoking scene or just don't have the time for a full cigar, you're in luck. Cigarillos, or small cigars, are very mild and normally take just five to 15 minutes to smoke. Although they're only three or four inches long, these miniature cigars produce satisfying flavors with each draw. In this blog post, we'll tell you more about cigarillos, along with five of the best cigarillos for beginners and aficionados alike.
This cigarillo comes from the Netherlands and is very popular in Europe. Made by Agio Cigars, Blues have a short, high-quality filler and a Connecticut wrapper. When you first pick up this cigarillo, you'll catch an earthy aroma; as you smoke it, you'll taste creamy, spicy, and even nutty flavors. With a smooth draw and mellow taste, this is an excellent cigarillo for both first-timers and professionals. You can even smoke a Panter Blue in just five minutes–perfect with after-dinner drinks or dessert.
BLEND is a big fan of Davidoff cigars, and Davidoff cigarillos are just as praiseworthy. The Demi-Tasse has the famous Davidoff construction and balance we know and love; the cigarillo is small, yet refined. Even the inner workings of the Demi-Tasse are complex, with Indonesian, Brazilian and Caribbean tobaccos. It has an Ecuadorian Sumatra wrapper, with hints of sweet vanilla from start to finish. You can smoke the Davidoff Demi-Tasse in just 10 minutes, and it's mild enough to enjoy with your morning coffee or light evening appetizers.
As you can see, there are plenty of options when it come to high-quality cigarillos. Try one (or all) of these five small cigars, and you're sure to find one you especially enjoy. We understand that our wide selection of cigars can be overwhelming at first; that's why cigarillos are a fantastic choice for novice smokers. Here at BLEND, we keep our humidor well stocked with a wide variety of cigarillos so you can enjoy a smoke while relaxing with your family, friends, or colleagues. We hope to see you soon.